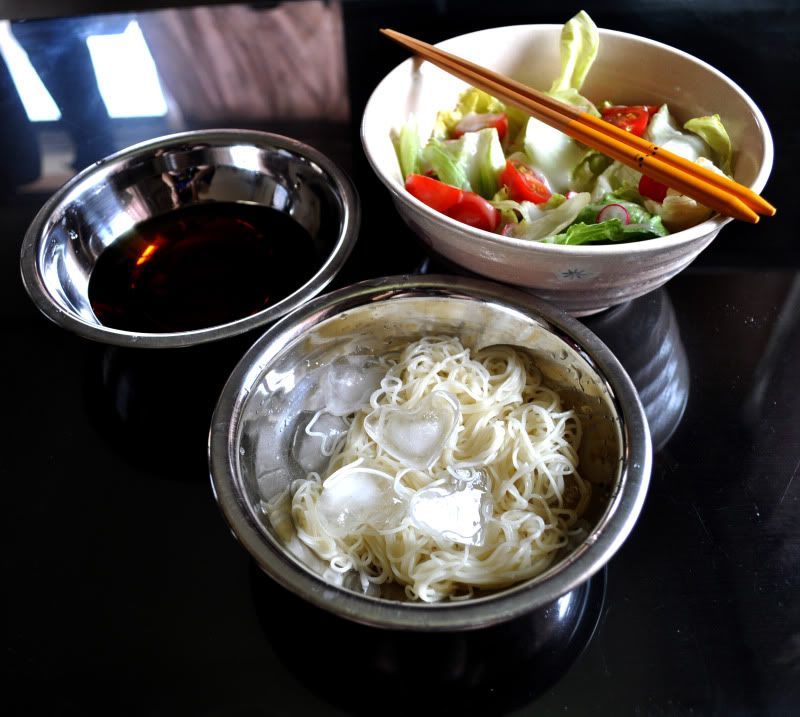 You realize that there's something wrong with you when you start putting heart-shaped ice cubes in your Friday somen. I'm so obsessed with somen, some kind of Japanese capellini, served cold and dipped into some fish and shoyu souce. So fresh and perfect for summer.
The radish in my salad is home grown. I'm so proud of my radish, so pretty and tiny.
Tonight it will be a night of mayhem, because my friends and I will be going to the infamous club Atom, in Shibuya. Milla and I used to be regulars at Atom, since we were "friends" (in a very Japanese way) with some of the people working there. Fashion-wise, Atom is quite hell. Think of your local hooker, put a volouminous wig on her head, fake lashes and there you go, your average Atom girl is ready to shake her hips to some trance music. Well, you never feel out of place in Atom. My outfit for tonight will be outrageous, and yes, I'm so excited about it. On the other hand, I'm quite afraid to post any picture of it on my blog, because people could blackmail me forever if I ever post something like that. Uh, just kidding. Maybe I will post something, who knows. I just feel like going back to 2007, when I was into Shibuya-style fashion.
Quite a random entry. Sorry.